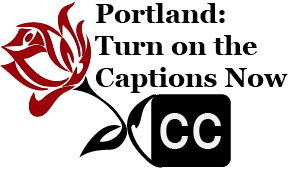 The City of Portland passed ordinance PCC 23.01.075 on November 18th, 2015, which went into effect on December 18, 2015. This ordinance requires TVs in public places in Portland to have the captions turned on and to be left on.  The new Portland ordinance removes the burden of having to request captions; the captions will be on by default.
This measure resulted from advocacy by the group Portland: Turn On The Captions Now!  Carol Studenmund, president of LNS Captioning, worked on this project along with Jim House, David Viers and Steven Brown, gentlemen who are leaders in the community of people with hearing disabilities.
Check out the City of Portland's website about this ordinance:  http://www.portlandoregon.gov/69429.
How to turn them on and leave them on:
http://captionsonnow.net/how-can-businesses-comply
More information:
In the news:
http://www.oregonlive.com/portland/index.ssf/2015/12/portland_captions_public_place.html
http://thejcr.com/2016/02/02/city-of-portland-ore-passes-tv-caption-ordinance/